An aquatic area and a 4-star campsite: what more can you ask for?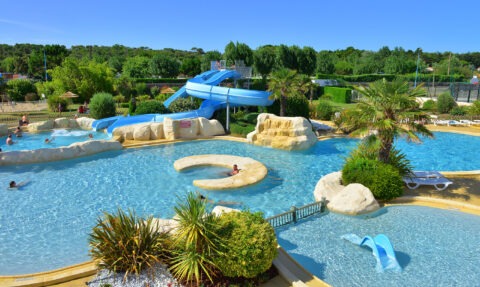 The different swimming pools of the Camping Les Places Dorées in Vendée
As for swimming pools, the Les Places Dorées campsite offers three types, including heated swimming pools. First there is the outdoor swimming pool. It has been a delight for the occupants of this 4-star campsite since May 18, 2019. This pool is very popular with campers. You too can enjoy a good swim under the Vendée sun in a green setting.
Next to the outdoor pool, this 4-star campsite will also offer an indoor swimming pool. It is also heated to a temperature of between 26 and 28 degrees Celsius. This pool has a length of 15 meters, for a width of 7 meters. You will be able to swim in peace. After your swim, you can always sunbathe by lying on the lawn or on the terraces designed for this purpose.
With this indoor pool,you can enjoy swimming in this campsite, no matter the season. Even the whims of Mother Nature can't stop you from sunbathing yourself and enjoy your holiday to the fullest. This pool, as well as the heated outdoor pool, have been open to campers since June 17, 2019; then they are waiting for you.
The slides at The Golden Places campsite
The aquatic area of this 4-star campsite also has slides. There are exactly two in this campsite in Vendée. On these slides, you will be able to have unlimited fun with your children.
To further enhance its aquatic space, the Camping Les Places Dorées has equipped itself with a Space Hole. With this slide you will feel different sensations. Indeed, between the tunnel in which you will be locked, the multiple whirlpools and finally the plunge into the hole,you will experience many moments of excitement. The slides at this campsite in Vendée have been accessible since July; you will find them at your disposal for the month of September.
The wading pools at Les Places Dorées campsite
Toddlers are not harmed in the aquatic area of this campsite in Vendée. While you're either swimming in the pool or sliding on the slide, your kids can have fun in the wading pools. They will also be able to enjoy swimming during this holiday. For this purpose, this campsite in Saint-Jean-de-Monts has two wading pools. There is the outdoor wading pool and the heated outdoor paddling pool. Rest assured, while they are having fun in the paddling pool, the children are perfectly safe.
Sport and relaxation in the aquatic area of the Camping Les Places Dorées
Theaquatic area of this campsite in Vendée also waits for you to come and enjoy its sports activities. You can play water polo, or do aquagym sessions. These sessions take place every morning from Monday to Friday.
In addition to these sports activities, the aquatic area of this campsite also intends to make you enjoy, for free, moments of relaxation. You can enjoy the sauna and steam room of this 4-star campsite, if you wish. For a moment, you will be able to have a moment of intimacy away from all the movements that take place within this campsite of Vendée.
Our accommodation suggestions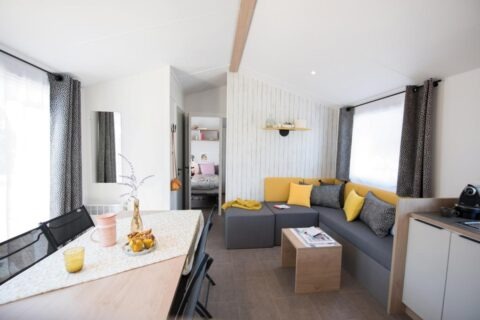 Cottage Family
covered terrace + TV + dishwasher

Area 40 m2

4 Bedrooms

1 person
Having a good stay with your large family is no longer mission impossible, with the Family Cottage and its surface area of over 40 m². 4 bedrooms and common living rooms, to ensure you have a comfortable and spacious holiday!