3 types of mobile home to camp in Saint-Jean-de-Monts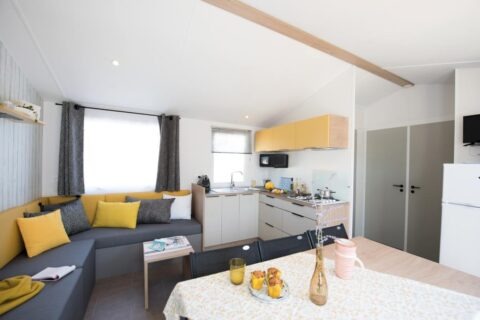 To recharge, nothing better than a return to nature. All you have to do is go camping in the Vendée. The Golden Places campsite offers several types ofaccommodation in Saint-Jean-de-Monts,all close to the beach.
For a camping trip in Saint-Jean-de-Monts,here are some accommodation ideas for you.
Accommodation for 2 to 4 people
For a small number of campers, two to four people, the Mobil-home leisure is ideal. It is 20 sqm and consists of 2 bedrooms.
Always in the same vein, we offer the Mobil-homecomfort. It is 5 sqm more than the previous one, or 25 sqm. As a result, it offers that offer more space. With two bedrooms, three or even four people could easily find their mark.
In this way, small families will also be able to afford some comfort while saving money. The proposed equipment is in every way similar to that of the previous offer. Nevertheless, the space available in each room is much larger.
Accommodation for 4 to 6 people
These types of accommodations are a step up on the comfort scale. We provide you with basic equipment and also specific benefits. With the Mobil-home great comfort 30 m2 for example, you have:
a television
a freezer
a microwave
an electric coffee maker
a dishwasher, etc.
The Mobil-home is more spacious than the previous one, as it is 35 sqm. All the elements that can make your comfort easier on a daily basis are combined. You have w.c. for each room. The bathroom is equipped with a sink and of course a shower. In the living room, you can sit on two benches while watching TV.
The availability of the two chambers makes it possible to adopt several configurations at the time of the allocation. One of the bedrooms has a large bed of 140×190 and the other a bed of 80×190. They both have a closet.
Accommodation for 6 to 8 people
The Camping Les Places Dorées, with the comfort and well-being of its clientele at heart, has also provided mobile homes for several occupants. More than just a formula, the Mobil-home Family is able to accommodate large families, up to 8 people.
It consists of four spacious bedrooms, two w.c., an open terrace with garden lounge and everything you need to sunbathe. It should be added that the kitchen area has all the necessary facilities to make it a functional and modern kitchen.
The Mobil-home prestige of 36 sqmis the smaller version of the Mobil-home family. This is the second most modern installation offered by Les Places Dorées. All of the benefits mentioned above are included in this offer. It consists of 3 rooms in which campers can stay.
It must be said that for these two accommodations, heating is available in each of the rooms. They are also the most prestigious facilities of the campsite.
Locations
If you don't choose one of these accommodations, there are other options available to you.
The campsite offers:
In total, there are 76 grass-based nude sites with an area of about 80 m2, spread over 5 hectares. These pitches are intended for the installation of tents, caravans,and campervans.
What to spend a holiday in nature, in a campsite in Saint-Jean-De- Monts. For your comfort, and to allow you to camp in complete privacy, we have proceeded to delineate the plots by hedges.
In short, to camp in Saint-Jean-De-Monts you can either become a Mobil-home owner or rent a location for the installation of your cottage.
Our accommodation suggestions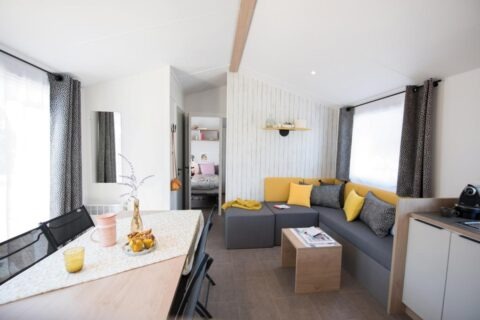 Cottage Family
covered terrace + TV + dishwasher

Area 40 m2

4 Bedrooms

1 person
Having a good stay with your large family is no longer mission impossible, with the Family Cottage and its surface area of over 40 m². 4 bedrooms and common living rooms, to ensure you have a comfortable and spacious holiday!