4-star camping Golden Places in Saint-Jean-de-Monts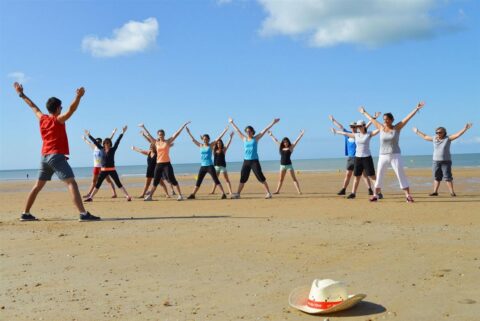 4-star campsite The Golden Places in Saint-Jean-de-Monts: many activities to pace the stays
To offer better holiday conditions for campers, the campsite has a team experienced in the task that takes care of accompanying the holidaymakers in the various recreational activities.
There are a variety of kinds of them. These are well thought out and suitable activities to entertain the youngest and oldest. Your campsite offers:
– playgrounds;
– sfitness sallies;
– relaxation areas (sauna, steam room, bubbling baths);
– multi-sport courts;
– a video game room;
4-star campsite Golden Places in Saint-Jean-de-Monts: quality infrastructure
Equipped with an infrastructure and a space whose echoes transcend borders, the campsite offers various sports and wellness activities, walks in the forest,relaxation and fitness training.
Apart from the infrastructure, the campsite also has natural spaces in a privileged setting. It is a vast expanse of sea for various activities and an equally important area of forest for the discovery of the ecosystem.
An organization tailored to each category of campers
To allow all campers to fully enjoy their stay, the organizing team has set up activities and activities according to the ages:
– a Children's Club for children aged 5 to 12;
– "Teen Special" for teenagers;
– adult fitness training;
– relaxation classes to de-stress.
In this way, the animations can be performed at a frantic pace.
Not just camping games…
Qualified facilitators provide training and wellness sessions,aware that happiness depends on mood and well-being.
At the end of each day at the campsite, these animators always with the aim of boosting the morale of the campers take care of animate themed evenings in order to plunge the heart of the campers in a good-child atmosphere.