CAMPING 4 STARS SAINT-JEAN-DE-MONTS THE GOLDEN SQUARES AND ITS NAUTICAL ACTIVITIES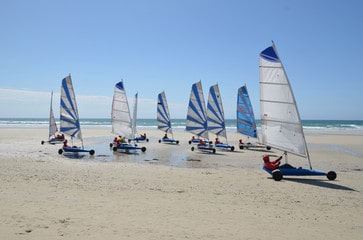 The success of your holiday depends in large part on the place you choose and the activities you have done there. To not have any regrets, let us offer you the camping Les Places Dorées in Saint-Jean-de-Monts with its aquatic spaces. Rest assured, it will not fail to meet your expectations. Find here already a taste of this paradise on earth.
A 4-star campsite The Golden Places in Saint-Jean-de-Monts: the perfect setting for a dream holiday
In Saint-Jean-de-Monts, you will enjoy a comfortable and adequate environment for relaxing parties and games. With family or friends, the house offers more than 76 campsites with an area of 80 m2 each.
If you don't choose one of your liking, you can also set up tents or caravans. You will also find shady or sunny environments that are sure to please you. With this campsite, you won't miss any moment of your holiday.
Saint-Jean-de-Monts and its executives for nautical activities
For children, teenagers and adults who like to have fun in the water, the campsite is a real paradise.
To allow you to relax properly, you will find frames for swimming, swimming and wading. Here are some places you'll really enjoy:
The spaces reserved for bubbling baths, the steam room and the Jacuzzi;
Frames for nautical activities such as water polo tournaments and aquagym classes;
The indoor swimming pool is ideal for swimming in any season with pools of 15 x 7m;
The beaches prepared not far from the swimming pools;
Terraces with sunbeds for sunbathing parties;
The secure paddling pool equipped with slides with slides for children and teens.
At the 4-star Camping The Golden Places in Saint-Jean-de-Monts, the holidays quickly become unforgettable moments of a lifetime.
In addition to water activities, you can also cycle on bike paths or take part in hikes.
Our accommodation suggestions