4-star campsite Saint-Jean-de-Monts The Golden Places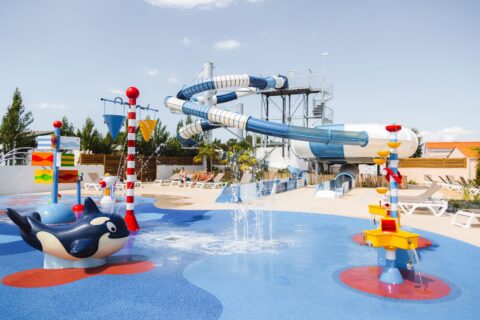 New aquatic area: camping the Golden Places in Saint-Jean-de-Monts
Saint-Jean-de-Monts is known for its various tourist hubsthat have greatly contributed to its current notoriety. Camping is a part of it.
Moreover, camping lovers will find complete satisfaction with the institution "Golden Places". With different attractions and recreational activities, you've come to understand: "It's time for you to have a good time!"
What are the great surprises of
the "Golden Places" campsite in Saint-Jean-de-Monts?
Find out in the paragraphs below.
What awaits you at the 4-star Camping Saint-Jean-de-Monts
There are a whole range of aquatic attractions to allow you to have fun with your family or loved ones. This is hardly surprising when you realize that this is a 4-star campsite.
Here are the main aquatic attractions of the Golden Places campsite in Saint-Jean-de-Monts:
Bubbling baths;
Water slides;
Games that are played in the water;
Heated pools;
A wading pool;
And there's even an indoor pool.
New attractions at the 4-star Camping Saint-Jean-de-Monts
For the 2020 season, the Les Places Dorées campsite in Saint-Jean-de-Monts has developed new attractions in order to satisfy the public.
As a result, two new slides are now present and usable. They reach up to 10 meters in height. And so that children can bathe while having fun, a brand new special place has been set up, reaching 120 square meters.
The paddling pool is reserved for children. Security measures have been taken so that they can have fun in peace. In addition, teens and adults can experience the thrills of sliding by taking the different slides of the water park.
Swimming is not mandatory. All around the various aquatic attractions have been set up sunbeds that will allow those who do not want to swim to bask in the sun or take a nap.
The indoor pool is the ideal option when the weather does not lend itself to outdoor swimming. In addition, this pool has the advantage of being heated. So you can swim or bask in it while it rains outside.
Apart from the good times spent in the water park, residents of the
4-star campsite in Saint-Jean-de-Monts
will be able to participate in water polo sports competitions. Aquagym classes are also organised for those who wish to take part.
More useful information about camping The Golden Places in Saint-Jean-de-Monts
To have access to the various swimming pools of the
"Golden Places" campsite in Saint-Jean-de-Monts,
the condition is to be one of the residents.
De facto, this means that casual visitors who are not part of the campsite cannot have access to the various attractions of the water park.
A child cannot have access to swimming pools and slides on his own. It is imperative that one of the parents accompany him. For swimming, the swimsuit or the swimsuit are mandatory.