5 good reasons to stay at Les Places Dorées campsite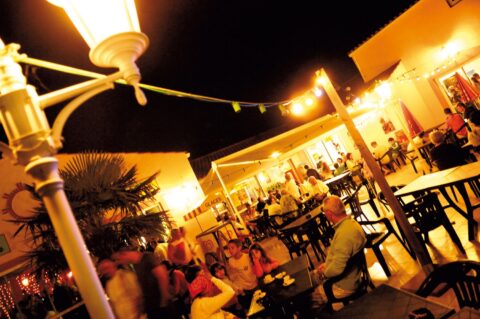 The camping Les Places Dorées en Vendée opens its doors in September to offer you many activities that will allow you to escape and relax.
1. The aquatic area of camping The Golden Places
One of the main attractions of this 4-star campsiteis its aquatic space. This aquatic space is made up of all the elements that will allow you to fill the void in your head. For example, you can relax in the indoor pool. Thanks to its dimensions, this pool will allow you to do a few laps if you ever feel like it.
In addition to the indoor swimming pool, this campsite in Saint-Jean-de-Monts also has slides. The sensations you will feel while sliding on these slides will make you forget everything that has been bothering you until then. All the activities or facilities of the aquatic area of this campsite are intended to allow you to have fun, relax and enjoy your stay to the fullest.
2. Many sporting activities at Camping Les Places Dorées
To allow you to escape, our campsite in Vendée offers many sports activities. For example, you can participate in the competitions that take place on the multi-sport field. Aquatic sports enthusiasts can enjoy water polo in the aquatic area of the campsite. There are also petanque competitions on this campsite. Being based 800 meters from the beach of Saint-Jean-de-Monts,you can also participate in games on the beach.
If you want to get back in shape, Camping Golden Places has it all. In addition to the gym, there are also step sessions and several other sports activities that you can follow under the supervision of the campsite facilitators.
3. A discovery of the surroundings of the Golden Places campsite
A walk in the vicinity of this campsite in Vendée will also allow you to escape. This is the result of the discoveries you are going to make in this environment. Indeed, the surroundings of this campsite are full of important tourist assets of the Vendée. Among these assets, you can discover the passage of the Gois, the island of Yeu and many other famous places of this region that you can discover during your campsite.
4. The bubbling bath of this campsite in Vendée
After spending a day walking in Saint-Jean-de-Monts or playing sports on the beach or indoors, you definitely need to relax your body. For this, Camping Les Places Dorées offers bubbling baths. Indeed, there is nothing better than hot water and bubbles to give his body the rest he needs. With the bubbling bath of this campsite in Vendée,you will feel a complete relaxation.
5. The steam room and sauna at Camping Les Places Dorées
For the rest of its campers, Le Camping Les Places Dorées also offers them the steam room and sauna.
With the steam room,you can give yourself a moment of intimacy, far from the excitement that there is within the campsite.
As for the sauna,you can enjoy it alone or in the company of your spouse or friends. It should be noted that sauna and steam room sessions are reserved for people at least 16 years of age. Just like the gym, access to the relaxation area of this Vendée campsite is completely free.
Our accommodation suggestions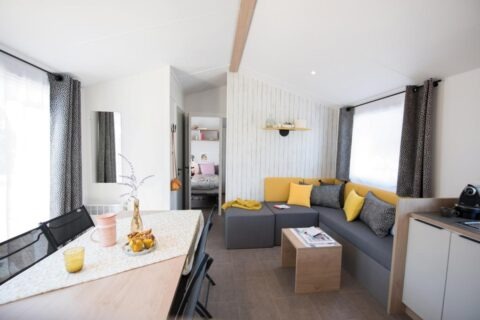 Cottage Family
covered terrace + TV + dishwasher

Area 40 m2

4 Bedrooms

1 person
Having a good stay with your large family is no longer mission impossible, with the Family Cottage and its surface area of over 40 m². 4 bedrooms and common living rooms, to ensure you have a comfortable and spacious holiday!