5-star campsite Saint-Jean-de-Monts: Les Places Dorées gets a 5th star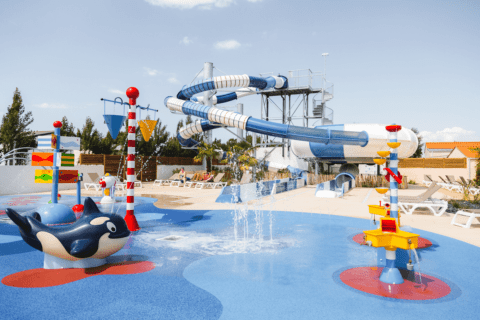 Are you looking for a 5-star campsite in Saint-Jean-de-Monts? The Les Places Dorées campsite in the Vendée meets your criteria!
Spend holidays alone, with family or friends… Whatever your preferences, the Vendée is an essential region for all types of stays.
However, the quality of your holiday also (and above all) depends on the comfort of your accommodation. Are you looking for a good campsite in Vendée?
Why not go to a 5-star campsite in Saint-Jean-de-Monts? In addition to finding comfort and welcoming accommodation, you are betting on a campsite that offers you all the services you may need during your holidays!
And that is exactly why Les Places Dorées campsite opens its doors to you. Book an unforgettable stay with your loved ones, taking advantage of our brand new 5th star!
A very comfortable campsite for all holidays
Just recently, Les Places Dorées campsite was awarded a fifth star. This privilege is due in particular to the quality of our service, but also to that of our accommodation and our premises.
By booking an unforgettable stay at Places Dorées, you are opting for a campsite that welcomes you in warm comfort , in all circumstances.
We are aware that holidaymakers are looking for sporting activities or relaxation. In any case, we know that the quality of the nights spent in your holiday accommodation is essential!
It is for this reason that we direct our service towards inimitable comfort for all holidaymakers who book their stay at Places Dorées.
Les Places Dorées, a fifth star for the pleasure of young and old!
And when we talk about holidaymakers , we mean absolutely all holidaymakers: adults and children alike.
Adults can relax on the edge of our superb aquatic center, on very comfortable deckchairs. During this time, the children can take the time to discover all the games in our secure water fun area.
They will also be able to meet all the little friends of their age within the framework of our club for children or our club for teenagers . In any case, all the services and all the activities are designed to adapt to the ages of the holidaymakers at the Places Dorées.
With a secure entrance and lifeguards in our aquatic area , Les Places Dorées is a campsite where young and old can have fun. As much during the day as during the evening, with all our themed evenings organized within the campsite!
Pitches equipped for the whole year
The advantage of Les Places Dorées and what earned it its 5th star is in particular the variety of pitches and accommodation.
You can indeed choose to book a cottage, a mobile home … Or quite simply a tent pitch, depending on the holidays you are organizing in our campsite.
Our cottages are perfectly decorated, and guarantee you increased comfort throughout your stay. You have the choice among different sizes of cottages , in order to invite all your loved ones during your holidays in Vendée!
As for the large tent and camper pitches , they are equipped with all the necessary amenities. You have access to water, electricity but also to sanitary facilities which are cleaned on a regular basis.
Everything you need for an unforgettable holiday, in comfort designed for everyone.
To discover: The accommodation at the Les Places Dorées campsite
Activities and amenities accessible in all circumstances
In addition to sanitary facilities and all the services you need, Les Places Dorées campsite is perfectly positioned in Saint-Jean-de-Monts.
With plenty of shops, restaurants and bars nearby , you can do all of your daily errands on foot. You can also get to the beach without difficulty, since it is located just 800 meters from the campsite .
What to enjoy the tranquility of the Vendée, in a setting designed for your comfort!
To discover: Les Places Dorées campsite services and entertainment
Our accommodation suggestions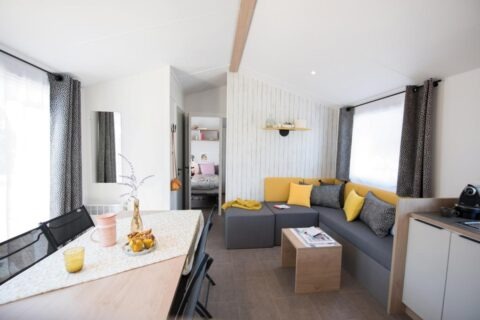 Cottage Family
covered terrace + TV + dishwasher

Area 40 m2

4 Bedrooms

1 person
Having a good stay with your large family is no longer mission impossible, with the Family Cottage and its surface area of over 40 m². 4 bedrooms and common living rooms, to ensure you have a comfortable and spacious holiday!