A beachside campsite! The strengths of Golden Places in Saint-Jean-de-Monts

This campsite near Saint-Jean-de-Monts has an excellent geographical location and is a reference point for holidays with friends or family. What are the advantages of this campsite? Why go there?
Discover the campsite with water park Saint-Jean-de-Monts
Les Places Dorées campsite is one of the best 4-star campsites in Saint-Jean-de-Monts. Located on an area of more than 5 hectares,this campsite is located on the seafront, about 800 meters from the beach.
The campsite has more than 75 campsitesin its natural setting preserved on the edge. Apart from these, tents and caravans are also available. Some are installed in sunny areas and others in shady areas.
To ensure optimal comfort and privacy, each of these locations has access to the water network and electricity. The campsite has many other facilities, including mobile homes, sports fields, an aquatic area and a wellness area.
In addition, there is a full bar and ideal for dining. Apart from the charm of its unspoiled natural setting, the Les Places Dorées campsite is a friendly place with a variety of activities.
The strengths of the Camping Golden Places
Your stay at the Les Places Dorées campsite will certainly be enjoyable and unforgettable. Indeed, camping has many advantages. The 4-star campsite has a good proximity to the beach. All you have to do is cover about 800m to take a swim at sea.
In addition, its proximity to bike paths and walking trails is an advantage for you. Guests can walk or cycle to explore the beauty of the landscape surrounding the campsite.
In addition, free access to the wellness area is also a great benefit for you and your family. The sauna, the steam room or the boiling baths are all free. In addition, the Golden Doors campsite has better infrastructure. These include the swimming pool with slides, the fitness area,the multi-sports field, etc.
What services and services are available?
The campsite with water park near Saint-Jean-de-Monts offers many services. You can find them for free and paid at accessible rates. The welcome is warm and is accompanied by good care. At the bar and restaurant, a variety of dishes are offered depending on the time of year.
The themed restaurant is the one offered by the snack bar in high season. If you prefer family cooking, you can go to the supermarket and fishmonger's shop located about 400m away to refuel. For swimming enthusiasts, a lifeguard is available at the aquatic area.
For your stay, the campsite also offers the rental of different types of accommodation and useful accessories.
Make an optimal experience
The campsite with water park has the necessary equipment and infrastructure. Booking une réservation your accommodation is often required. Book the products and services you'll need to ideally anticipate and prepare for your stay.
However, on-site rental of accessories and certain equipment is also possible. To satisfy your extra desires for leisure such as walks and aquatic activities, a reservation gives you better guarantees. Join the Golden Places campsite for an exciting, enjoyable and unforgettable experience.
Our accommodation suggestions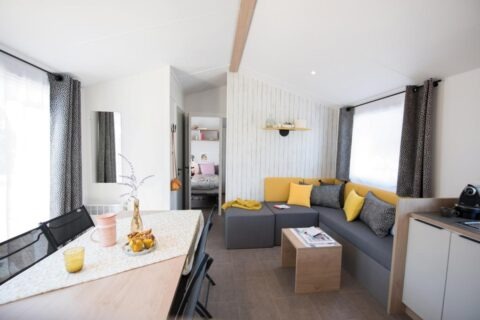 Cottage Family
covered terrace – TV – dishwasher

Area 40 m2

4 Bedrooms

1 person
Having a good time with your large family is no longer an impossible mission, with the Cottage Family and its area of more than 40 square meters. 4 bedrooms and communal living rooms, to ensure a comfortable and spacious holiday!