An excursion to the island of Yeu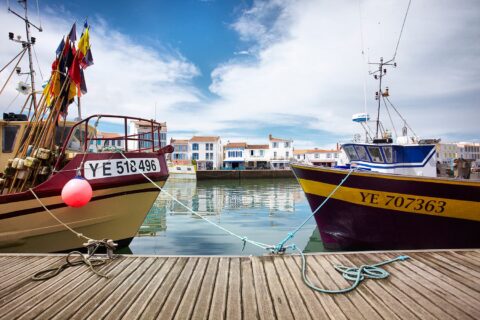 During your camping holiday, discover the island of Yeu, one of the most beautiful islands in France, off the coast of Vendée. Au départ de Port Fromentine ou Saint Gilles Croix de Vie, vous poserez le pied sur l'île d'Yeu et vivrez des moments authentiques entre balades sur les sentiers côtiers où s'élèvent des falaises altières, flâneries sur le port et promenades dans les pittoresques ruelles, visite du Vieux Château…
Longtemps port de thonier, l'île d'Yeu est aujourd'hui un site touristique incontournable de vos vacances en camping en Vendée. Sur place, vous serez sous le charme de la côte sauvage, classée « site naturel » avec ses falaises escarpées au sommet desquelles trône le Vieux-Château.
Outre le sentier côtier sur lequel il fait bon se balader, l'île propose un large choix d'activités de bord de mer et activités nautiques : voile, kayak de mer, pêche, plongée sous-marine, surf, paddle…sans oublier les nombreux commerces et restaurant avec terrasse notamment du côté de Port-Joinville.
À voir, à faire sur l'île d'Yeu
Flâner à Port-Joinville où se dressent de typiques petites maisons blanches,
À pied ou à vélo, longer la côte sauvage située entre la Pointe du But et la Pointe des Corbeaux,
Faire le tour des petits ports (Les Meules, Les Vieilles, Les Sapins, Les Broches),
Admirer le Vieux-Château (XIVe siècle) qui aurait inspiré Hergé pour crayonner celui de L'Île Noire.
Explorer les sites préhistoriques (dolmens, menhirs, pierres à cupules…)
Si vous recherchez un camping près de l'île d'Yeu, contactez le camping 4 étoiles Les Places Dorées pour connaitre les disponibilités et réserver votre location de mobil home ou emplacement de camping !
Photos : A.Lamoureux, Vendee Expansion
Convenient: book your crossing to the island of Yeu directly at the campsite reception with the ticketing service!
Fromentine / La Barre de Monts – 30 to 45 min crossing
Crossings all year round
From Port Fromentine, crossings are carried out all year round with the Yeu Continent Company.
Check the timetables for the crossings
Saint Gilles Croix de Vie – 1 hour crossing
Crossings from April to September
From St Gilles Croix de Vie, sailings are carried out from April to September with the Vendée Company.