Bike tours around the Golden Places campsite: our recommendations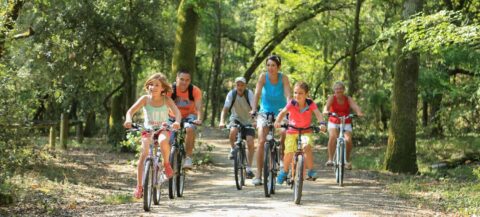 Our recommendations for a hiking tour in Saint-Jean-de-Monts
The surroundings of our 4-star campsite in Saint-Jean-de-Monts are full of many wonders such as the historical sites, cultural activities and festive activities that make up the beauty of the Vendée. To discover them, you only have to get on your bike and you embark on a ride on the bike paths.
The cycling circuits of the Barre-de-Monts
Very pleasant to explore, the cycle paths of the Barre-de-Monts will allow you to discover the flora and fauna of this beautiful region. Start your journey from our campsite and cross the island of Noirmoutier then travel through Beauvoir-sur-Mer and Bourgneuf-en-Retz to strand on La Barre de Monts. Practicable only by bicycle, these bike paths will allow you to contemplate the forest, the dunes, the marshes. In case you don't have a bike, we can rent it for you for a whole day.
The bike paths of the Vendée ledge
Well known for its natural landscape, the Vendée ledge welcomes thousands of tourists who are amazed by its caves, cliffs and rocks. For your bike tour, leave St-Hilaire-de-Riez, then cross the five Pineaux and travel through the Devil's Hole to land at Saint Gilles Croix de Vie. At this drop-off point, travel the route between the harbour docks and the pier to discover the museums, salt marshes and recreation parks there.
Our recommendations for an equestrian circuit in Saint-Jean-de-Monts
Whether you are a professional or not riding, take advantage of our equestrian rides to discover the surroundings of Saint-Jean-de-Monts in a different way. Accompanied by a professional, you can discover the beautiful vegetation of the forest of Saint-Jean-de-Monts which stretches over 2280 hectares or enjoy a walk on the beach. From Saint-Jean-de-Monts, our drop-off points are Pornic, Noirmoutier or Saint-Gilles-Croix-de-Vie.
Our recommendations for a walking tour in Saint-Jean-de-Monts
For a total fitness, you can take a walk on the Vendée ledge which offers three kilometers of discovery to hikers. You can also explore the route between the Gois Passage and the Noirmoutier Bridge where you can contemplate beautiful seascapes. You can discover the explorer's trail which stretches for 960 meters where you will have the opportunity to discover the wildlife of the region.
What services does our 4-star Camping offer in Saint-Jean-de-Monts?
Located near the beach, our camping Les Places Dorées welcomes you in its beautiful and luxurious premises for a relaxing stay. With family or friends, you can enjoy its beautiful beach with fine sand where you can perform a tanning session.
In our 4-star campsite in Saint-Jean-de-Monts,you can drop off your suitcases in our comfortable cottages that can accommodate between two and four people. We cottages have a bathroom, a fitted kitchen, a living room, bedrooms and terrace. In addition, you can enjoy our campsites that combine comfort and privacy to allow you to fully enjoy your holiday.
For moments of relaxation, you can swim in our aquatic area with heated pools. Your children can enjoy our new slides for spectacular slides. Also enjoy our relaxation area which has steam room, sauna and bubbling baths for a relaxation session. We also organise fun activities, entertainment and leisure activities for the whole family.
Our accommodation suggestions