Camping 4-star slide in Vendée, a water park of madness!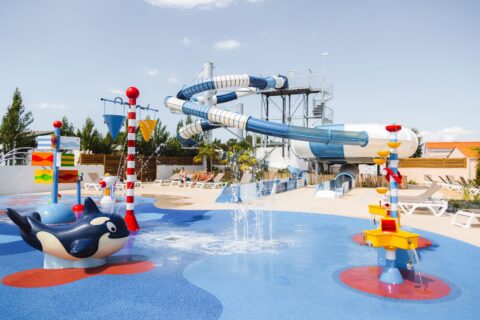 A new water park of madness! Camping the Golden Places in Saint-Jean-de-Monts
Located half a mile from the beach, the Les Places Dorées campsite is an idyllic natural setting in the shade of a pine forest. It offers many facilities that guarantee people of all ages an unforgettable stay. Children can have fun like angels and adults will enjoy a wonderful holiday. You will enjoy the free wellness area and you can bask in a sauna and steam room.
Camping water park Saint-Jean-de Monts, the new features of 2019 (opening in early July)
For the year 2019, the golden places campsite has chosen to bring more fun for an exceptional and fabulous holiday. The hotel has set up two 10m high slideswith a space hole!
Teenagers and adults will be able to descend safely. For the little ones, the centre has installed another aquatic play area of 120 m2. Your bits of cabbage can hop like angels during their stay in the Vendée. To take advantage of these innovations, book your holiday now at the Golden Places campsite.
Camping water park Saint-Jean-de Monts, a paradise for all!
The Golden Places campsite represents an exotic setting where a warm family atmospherereigns. This green oasis is a great place to sunbathe, bathe, relax and have fun.
The centre has heated outdoor pools in the heart of palm trees, stone headlands and green spaces. You benefit from a guaranteed change of scenery. It also offers water slides at the level of which the grown-ups make the most daring slides and boost their adrenaline.

The paddling pool remains the most popular place for children. They take pleasure in jumping under guard. They experience crazy sensations and real happiness. Make an appointment from April at the golden squares campsite for an unforgettable holiday.
The centre offers indoor and heated swimming pools. You can also swim in a 15 x7m pool to keep in top shape during your stay. No matter the weather, you have the opportunity to offer yourself the joys and pleasures of swimming.
4-star campground slide, sports and relaxations available
The Golden Places campsite has also installed large beaches around the pool. This allows you to enjoy more space and more privacy. After taking a good dip in the heated pool, you can bask at the terraces with sunbeds and umbrellas.
You can also sunbathe and relax on the beautiful lawns. You will also enjoy intense moments of relaxation in a steam room or hot tub with bubbling baths. In addition, fun activities are still available at the aquatic area at the Golden Places campsite.
Guests can take part in water polo tournaments or aquagym classes. You'll have fun with family or friends. You will be able to meet new people.