Camping activities The Golden Places: have fun even when it rains!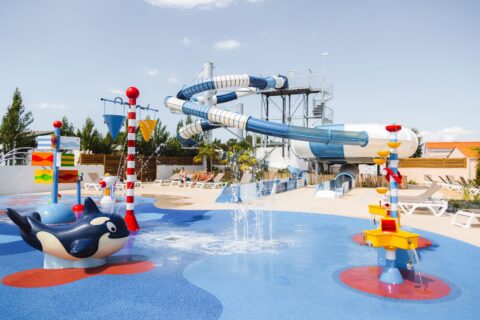 What to do when it rains at Les Places Dorées campsite in Saint-Jean-de-Monts?
There's nothing like Camping Les Places Dorées in Saint-Jean-de-Monts to find peace and enjoy the sun and interesting activities in the natural environment. A nice program awaits you with mini-golf, climbing, walking or cycling, near the tides or in the forest, the nautical base and much more. But lo and behold, the rain has arrived and you wonder if the campsite is still such a good idea. The answer is yes, because there are plenty of activities you can enjoy,even in the rain!
Take a moment to relax
When it rains during your holiday in Saint-Jean-de-Monts, you have the opportunity to focus on camping activities reserved for relaxation. The sun will eventually come back, but in the meantime you can go to the gym where coaches will help you get back in shape. Hammam, sauna, massage session, you are spoilt for choice according to your desires for relaxation.
Do a little reading, watch a documentary that you like, or listen to good music: there is no shortage of ideas to keep busy. Don't forget that you are in a campsite above all to enjoy a well-deserved rest. So think of napping,because the time is good for physical recovery.
You can swim at the pool
If you can't imagine a campsite without a swim, even in rainy weather, you'll be largely satisfied. Indeed, like most quality campsites, your campsite offers indoor swimming pools in which you will fully enjoy a gentle session without receiving rain on your back. And best of all, your pool will be heated to allow you to enjoy a very pleasant temperature.
Making group games
When you go camping, you think of moments of sharing and conviviality with your family. Board games are a good group activity.
When you come to the campsite, take some games that you enjoy doing with family or friends, as they will be very useful in rainy weather. Sometimes, getting down and putting themselves all around a table is enough animation to create very good memories in camping.
Exit not far from the Camping Les Places Dorées
When it's raining and you're at The Golden Places, you can still go out. Indeed, you can go to the movies and totally forget the bad weather it does.
If you still feel the need to move, consider a visit to one or more cultural or tourist sites near the campsite. This may include:
Museums;
Theatres;
other iconic places.
Find out more and you'll probably know how to make a good choice.
In short, when it rains, your camping holiday is not interrupted. Continue your lifestyle cheerfully and peacefully, until the rain stops,and you can then move on: time at the beach, outdoor recreation, hiking, etc.