Camping in a nearby seaside vendée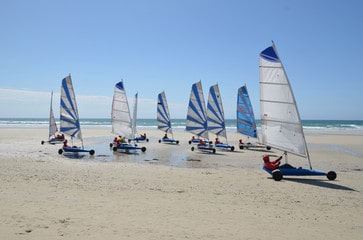 The Vendée is a coastal region full of an incredible number of campsites. The choice becomes difficult in front of so many possibilities, when you start planning your vacation. Don't panic! This article is intended to help you with some of the best sites for a campsite in a vendée close to the sea. These campsites offer quality facilities and an impressive range of services for the whole family.
A word about the Vendée
La Vendée is a department located in the north-west of France. It is crossed by the river of the same name, which flows into the Niortaise Sevre. The department is located in the Loire region and the historic province of Poitou.
The Vendée has more than 140 kilometres of beaches on nearly 250 kilometres of coastline, and the rate of sunshine is the largest on the Atlantic coast. Several cities are renowned for their tourist dynamism:
Saint-Hilaire-de-Riez;
Saint-Jean-de-Monts;
Les Sables-d'Olonne;
Saint-Gilles-Croix-de-Vie.
Choose a campsite in a vendée close to the sea
Here are some of the best campsites you can find in the Vendée!
Camping The Pirons
Near les Sables d'Olonne is Camping Les Pirons, just 300 metres from the Atlantic Ocean. The beaches and cliffs of Vendée will welcome you with activities such as sailing, surfing and diving. There is absolute pleasure and comfort to relax thanks to heated pools and water slides; ideal for a camping in a Vendée close to the sea unforgettable.
Camping Le Bel Air
Always on the beach and not far from the Sables d'Olonne, you will also find Le Camping Le Bel Air. Connected to the largest network of bike paths in France, it allows you to discover the region with your family. The campsite also has accommodation, covered and heated aquatic space, entertainment and catering.
Camping Golden Places
This campsite is located just behind the beach the Vendean dunes, and very close to the seaside resort of Saint Jean de Monts. Here are some highlights of this campsite in a vendée close to the sea:
Near the beach of St Jean de Monts, just 800m away;

Close to bike paths and walking trails, just 500m away;

Toboggans,multi-sports field, fitness room;
Sauna, steam room, bubbling bath.
Camping The Blue Flots
Les Flots Bleus campsite is just 200 metres from a stretch of beach. Nearby, you can fish on foot, sail or sail. During your stay, don't forget to enjoy one of Brittany's beautiful destinations, La Tranche sur Mer.
Camping The Ocean
High-end, Le Camping L'Ocean stands near the salt marshes of Olonne-sur-Mer, the Isis of Eyes and the famous seaside resort of Les Sables d'Olonne. A distance of 600 meters separates it from the sandy beaches and the Vendean dunes. On this campsite in a vendée close to the sea await you a wide choice of accommodation, a large water park, entertainment, a bike rental service and a restaurant.
Our accommodation suggestions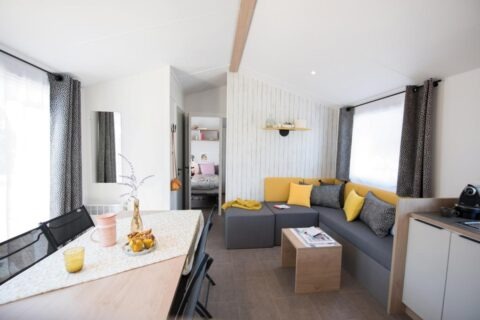 Cottage Family
covered terrace – TV – dishwasher

Area 40 m2

4 Bedrooms

1 person
Having a good time with your large family is no longer an impossible mission, with the Cottage Family and its area of more than 40 square meters. 4 bedrooms and communal living rooms, to ensure a comfortable and spacious holiday!