Discover the thrills of the water slide at our 5-star campsite in Saint-Jean-de-Monts!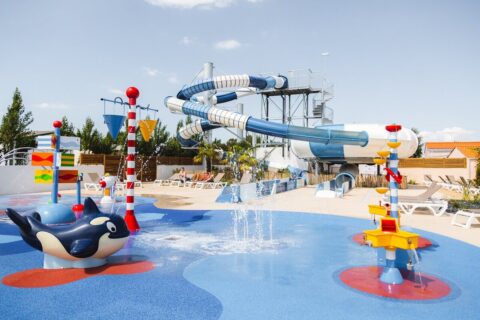 Are you looking for the best campsite with water slide in Vendée? Look no further: Les Places Dorées has it all!
Going on holiday in the Vendée means discovering a whole host of natural landscapes. Including sublime sandy beaches, which stretch to infinity.
Yes, but here it is: sometimes you don't want to go to the beach. Some days, driven by the rest in Vendée, you don't even want to leave the campsite!
In this kind of situation, you still have to find the best way to cool off from the heat of the Vendée… And that way is the campsite's swimming pool.
Some quality campsites such as Les Places Dorées offer aquatic areas designed for children, but also for adults. And for everyone to have fun together, there's nothing better than choosing a campsite with a water slide in the Vendée!
Les Places Dorées, your 5-star campsite in Saint-Jean-de-Monts , presents its aquatic area and its incredible slides, to delight young and old alike.
An aquatic area for young and old
At Places Dorées, our goal is that you have an excellent stay, whatever the circumstances and whatever your desires.
This is why, in addition to offering you access to the ocean just 800 meters away, we have planned a whole aquatic area designed for families and groups of friends!
We are delighted to introduce you to our incredible aquatic area which promises hours of fun and thrills for the whole family.
Between water slides, safe water fun area for toddlers and well-being area, we tell you everything about our large water park!
>>>To discover: Our campsite with water park in Vendée
The water park for the little ones
We know the little ones can't wait to have fun in the water. And we also know that in order for parents to be able to relax, the children must have fun in safety!
This is why we have created an aquafun area specially designed for children.
They will be able to enjoy multiple water games, jets and waterfalls , all in a safe environment adapted to their age.
Let them explore and discover the joys of water in a playful and colorful setting ! During this time, you can relax on the sun loungers made available next to the water fun area, to keep an eye on your little treasure.
>>>Also read: O'Gliss Park, one of the largest water parks in Europe
10 meter high slides
Here we are: the highlight of the show.
Designed for the amusement of children and adults, our incredible slides guarantee thrills in all circumstances!
Speed ​​lovers will be delighted by our two 10-meter-high slides. Convoluted to pick up speed and never get tired of the sublime feeling of sliding, our slides are designed for your fun!
With more than 96 meters of slide in total, these slides offer an unforgettable experience for young and old.
Let yourself be carried away by the speed and the thrill of descending at full speed in the refreshing water. A real adrenaline rush awaits you in our water slides in Vendée!
Moments of sharing with family or friends
The water slide is the perfect opportunity to share moments of joy and laughter with family or friends.
Challenge each other, compete for speed or simply enjoy this unique experience together.
The memories created around the water slide will remain engraved in your memories and will strengthen the bonds that unite you.
Optimal safety on the slides
At Les Places Dorées campsite, we obviously attach paramount importance to the safety of our holidaymakers.
All of our water slides are designed to the highest safety standards.
Supervisors are present to ensure that the safety rules are respected and to guarantee moments of pleasure in complete serenity.
Active and refreshing holidays
In addition to the water slide in Vendée, our aquatic area also includes a large outdoor swimming pool where you can relax and cool off.
Enjoy sunbathing on the deckchairs, dive into the crystal clear water and let yourself be carried away by a feeling of absolute well-being.
The pleasures of water are at your fingertips!
Book now your stay at Places Dorées, your campsite with water slide in Vendée
Don't miss the opportunity to experience thrills and moments of aquatic happiness during your holidays in Vendée!
Book your stay at Places Dorées now, where you can enjoy our exceptional aquatic area with its 10-meter slides.
Pleasure, conviviality and unforgettable memories await you in our fully equipped family campsite .
Our accommodation suggestions