Family camping in Vendée: accommodations suitable for everyone!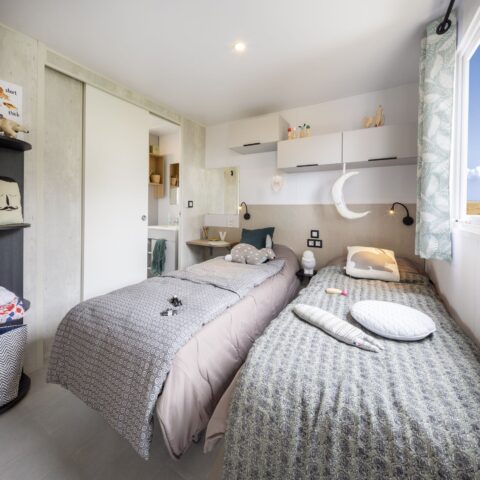 The cottage of Camping Saint-Jean-de-Monts
If there is one point that makes the strength of our campsite, it is the accommodations we offer to campers. This is also part of the criteria that make us a 4-star Camping in vendée. Our cottages (also called mobile homes) are beautifully designed to allow campers to meet in a friendly way. Here are the different cottages that we offer you for your family camping in Vendée.
The Family Cottage
Our cottage family offer is a 4-bedroom accommodation on an area of 80 square meters. Its capacity is 8 people. The family cottage is equipped with a dishwasher, a plancha television and the terrace is covered. So you can use this garden lounge for your family meals or just to bask in your family camping in Vendée.
The 3 bedroom cottage
Our 3 bedroom cottages are designed to accommodate up to 6 people. They range in size from 35 to 36 square metres. Depending on your budget and needs, you can opt for a comfortable 3 bedroom cottage or a more expensive prestige offer. The latter gives the advantage of a dishwasher and a plancha in addition to the television and the terrace covered with the offer great comfort.
The 2 bedroom cottage
The choice of the 2 bedroom cottage is much wider. You can choose between leisure, comfort and great comfortranges. The first is the cheapest and covers 20 sqm for a maximum capacity of 4 people. The comfort range is also suitable for 4 people, but extends over 25 square meters. The last offer in this category, that of great comfort can accommodate up to 6 people with its 30 m2 area. This offer includes a TV as equipment.
Other accommodations available at the Family Camping in Vendée
For your family camping in Vendée,you can also choose one of our tents or caravans. We can install them on sunny or shady spaces as required. The advantage of these other accommodations is that they are all equipped with an electrical connection and a water point. Our 4-star campsite in the Vendée also offers motorhomes for your stay.
The strengths of our accommodations at Camping Saint-Jean-de-Monts
Whatever type of accommodation you choose in our 4-star Camping in Vendée,you have the assurance of incredible comfort with your whole family. They are as well suitable for parents as for children. Similarly, lovers can perfectly make our premises their occasional love nest. So add a touch of uniqueness to your holidays, stays and weekends by choosing us. We offer an optional private bathroom, a fitted kitchen and a friendly living room for all our accommodations.
The other assets of our family camping space in Vendée
More than just a place to relax, our 4-star Camping in Vendée is undeniably a reference site for holidays. Comfort and privacy are guaranteed in our premises for all our holidaymakers, regardless of their age. In addition to our accommodations, our geographical location is a real asset for us. Our Camping Saint-Jean-de-Monts is located in a naturally preserved setting and located on the edge of the forest. So we are a reference choice without a doubt.
Our accommodation suggestions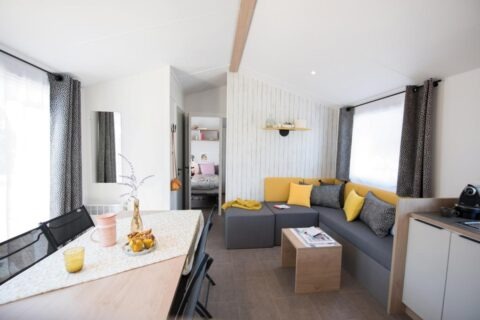 Cottage Family
covered terrace + TV + dishwasher

Area 40 m2

4 Bedrooms

1 person
Having a good stay with your large family is no longer mission impossible, with the Family Cottage and its surface area of over 40 m². 4 bedrooms and common living rooms, to ensure you have a comfortable and spacious holiday!