Learn kitesurfing during your stay at les Places Dorées campsite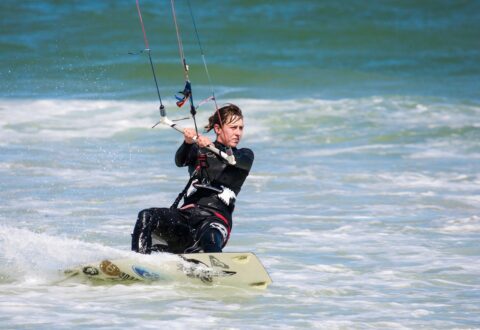 In Saint-Jean-de-Monts, your campsite Les Places Dorées gives you everything you need to learn Vendée kitesurfing. Take off!

There is no better time than a holiday to learn a water sports activity. And during your holidays in Saint-Jean-de-Monts, the choice is quickly made: learn kitesurfing and taste a real feeling of freedom!
The professionals of camping Les Places Dorées take care of your learning of kitesurfing, in the best circumstances. Discover the water activities in Saint-Jean-de-Monts thanks to the accompaniment of the Places Dorées.
Why learn kitesurfing?
Kitesurfing consists of using the thrust of the wind thanks to a sail, to surf the sea with the help of a board attached to the feet. Among all the water sports,kitesurfing has the particularity of giving you the impression of flying and floating on the water at the same time.
Like many water sports, the practice of kitesurfing is very subject to the vagaries of the weather and maritime weather. But in Saint-Jean-de-Monts, the perfect circumstances are often grouped together for an introduction to kitesurfing and a more in-depth learning.
Your 4-star campsite in Saint-Jean-de-Monts Les Places Dorées hires kitesurfing professionals to allow you to learn this exhilarating sport as soon as possible.
How long does it take to learn kitesurfing?
The learning time of kitesurfing depends greatly on your passive and the level you want to reach. Indeed, an introduction to kitesurfing usually requires a few hours to learn to master boarding and sailing, and to stand.
But if your goal is to be able to go kitesurfing alone and surf in peace and in perfect control of your equipment,it will take longer. You will be able to do an intensive learning of several weeks in Saint-Jean-de-Monts, to learn the perfect mastery of kitesurfing!
Obviously, if you've ever practiced sailing or surfing, learning may take less time. Indeed, kitesurfing brings together certain characteristics and techniques of these two disciplines: they can therefore be useful to you during your learning of kitesurfing.
Ideal circumstances to learn kitesurfing
The undeniable advantage of Saint-Jean-de-Monts for learning kitesurfing is found in particular in its long sandy beaches. The sand is much nicer to learn kitesurfing, in case of a fall but also simply to access the sea.
In addition, the long beaches tend to favor a certain perfectly advantageous wind catch as part of a discovery of kitesurfing. Thus, the beaches of Saint-Jean-de-Monts on which the campsite Les Places Dorées gives bring together all the ideal characteristics to learn how to kitesurf.
And to put all the chances on your side the time of your stay, Les Places Dorées carefully chooses the professionals with whom you will learn kitesurfing. Pedagogues for all ages and adapted to all levels, your kitesurfing trainers will guide you without problem towards the success of your kitesurfing apprenticeship!
How to learn kitesurfing in Saint-Jean-de-Monts?
During your holidays in the Vendée, you want to learn new things and fully discover the natural beauties of Saint-Jean-de-Monts? Camping Les Places Dorées is for you!
Our seasoned professionals take charge of your kitesurfing training and guide you on the way to mastering this exceptional nautical equipment. Master your board, your sail, the winds and the tide thanks to the professionalism of the trainers selected by Les Places Dorées.
Spend a memorable holiday on a kitesurfing board in Saint-Jean-de-Monts!
Do you want to embellish your holiday with even more water sports? Explore and discover the other water activities in Saint-Jean-de-Monts:
veil
Yachting
kayak
Paddle
Our accommodation suggestions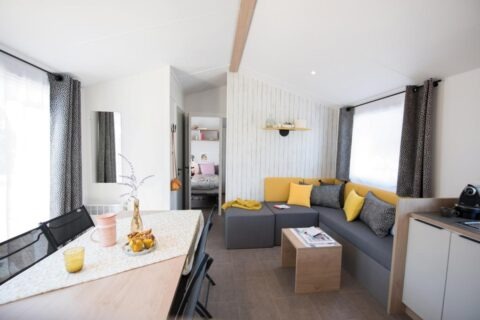 Cottage Family
covered terrace + TV + dishwasher

Area 40 m2

4 Bedrooms

1 person
Having a good stay with your large family is no longer mission impossible, with the Family Cottage and its surface area of over 40 m². 4 bedrooms and common living rooms, to ensure you have a comfortable and spacious holiday!