Taos mobile homes for luxury holidays in Saint-Jean-de-Monts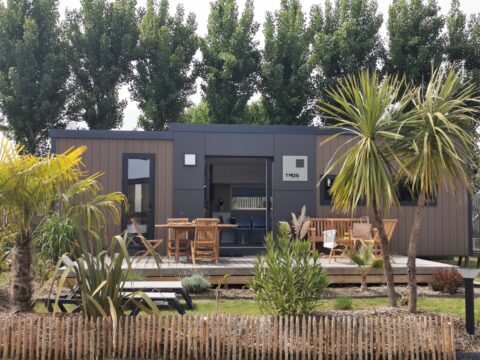 Comfortable beds, a layout designed for relaxation and lush greenery: luxurious holidays in Vendée in Taos mobile homes!

Vacations are for resting. And for rest, there's nothing like luxurious comfort designed to relax you!
It is with this in mind that your Les Places Dorées campsite has decided to create new top-of-the-range mobile homes: the Taos luxury mobile homes.
Luxurious mobile homes
The Taos rangeis an exceptional range when it comes to mobile homes. Unlike other family spaces, its entire constructionand creationis designed to ensure its occupants comfortworthy of the best holiday homes in Saint-Jean-de-Monts and throughout the Vendée.
Equippedwith 2 bedrooms or 3 bedrooms (and several bathrooms), the Taos mobile homes are completely modernized and break the codes of the mobile home on all levels.
Whether it is for the contemporary equipment, the incredible qualityof the beddingand the large sanitaryspaces, Taos is a new range of mobile homes which ensures you a relaxing holiday, in a luxuriousand comfortablehabitat.
A soothing interior layout
It's not just the equipment and bedding that are designed to ensure your well-being at all times: the entire interior layout of your Taos mobile home is designed to sootheyou and free you from your worries. Daily.
Pure lines, minimalist decoration at the height of elegance and ingeniouslyincluded features: Taos mobile homes have a level of comfortequivalent to a top-of-the-range habitat.
The objective of these accommodations: to make you feel better than at home.
The minimalistdecorationset inspires peaceof mind, and the layout of the rooms is designed to allow you to leave your problems at the door of your mobile home.
Taos mobile homes simply meet all requirementsfor objective beautyand visualrelaxation. Whether for the interior layout or the exterior aesthetics, savor truly relaxingmoments in a small cocoonof luxurious comfort.
Designer exterior lines
Taos mobile homes, in addition to being perfectly comfortable and meeting all your expectations in terms of well-being, have an extraordinary exterior layout to never break the enchantment of your holidays.
A dark wooden terrace, all the garden furniture to meet all your desires, all on a symmetrical and modernstructure, as pleasant to live in as it is to look at.
Taos mobile homes meet the main concernof holidays in a luxury campsite: allowing you to fully relax, throughout your stayat Les Places Dorées campsite.
Luxury comfort in a natural setting
And what better way to fully relax than to offer yourself a cocoon of peace in a veritable green setting? It is for this purpose that your Les Places Dorées campsite has placed the Taos mobile homes on large green grounds, in perfect proximity to the ocean.
You can spend restfulnightsin the comfort of your top-of-the-range room, and enjoy relaxing days on a long sandy beach less than 800 meters from your Taos mobile home.
If you are more of a sportingholiday, the ideal comfort in Taos accommodation will also be welcome. After a long walkor a day of cyclingon the pleasant cycle paths of Saint-Jean-de-Monts, relax in one of the most comfortable beddings, following a good mealcooked in a fully equippedkitchen.
With Taos mobile homes, respond spontaneously to all your desires of the moment for optimal well-being.
A national forest, the gentle sprayand the warm welcomegiven by the campsite staff: in the Taos accommodation at Les Places Dorées campsite, your holiday can finally begin.
Our accommodation suggestions