The 4 good points of our water park in Saint-Jean-de-Monts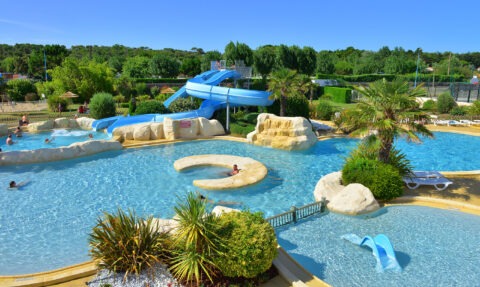 The indoor pool
What could be more enjoyable than experiencing thrilling moments while enjoying the pleasures of water in a swimming pool? Indeed, the aquatic area of the campsite of Saint-Jean-de-Monts is the perfect place to bathe, relax and have fun in an oasis of greenery under the Vendée sun.
Enjoy an attractive setting to treat yourself in an indoor pool. You can swim as many times as you like. Plus, no matter what the weather is outdoors, you can always enjoy swimming, especially when you have kids. At nightfall, adapted lighting will extend the evening with family or friends. You'll be sure to be in a good mood.
The heated outdoor pool
You're still drooling with the water areas of our 4-star campsite in Saint-Jean-de-Monts.
Faced with bad weather such as rain or coolness, you have no interest in depriving yourself of your swimming pleasure. The heated outdoor pools are there to allow you to enjoy the charm and elegance of nature while relaxing.
Imagine all the pleasure you'll feel when you slip into lukewarm water while the air is well agitated with fresh drafts. You certainly won't believe it, especially if the pool is covered. This is the perfect place to do a few laps and keep in good shape during your vacation. You will be protected from all the showers and the vagaries of the weather.
The slide
The 4-star campsite in Saint-Jean-de-Monts stands out from the rest for its impressive facilities that make this place a real water park.
In order for the youngest to enjoy the joys of swimming, there are paddling pools and small slides of their size for pleasant moments of vacation. The big ones won't be the rest of them. With its gigantic slides, slip into a huge tube in the dark with bright rings.
Fall into a top and then slide back into another slide. You can enjoy your slide games to contemplate the beauty of the water park and take incredible views of the campsite. You will certainly experience thrills with a good dose of adrenaline.
The sauna/Hammam
Holidays are not just about adventures. It is also important to rest and relax in order to regain more energy. Among the most fashionable relaxation activities of the moment are the sauna and the steam room.
Take advantage of your holiday at the 4-star campsite in Saint-Jean-de-Monts to relieve all the stress accumulated through bubbling baths. The heat and silence will bring a lot of calm to your nervous system.
All your muscle pain or tension in the neck or back will fade easily. In addition, take advantage of these relaxing moments to strengthen your immune system by regularly practicing the hammam. Your skin will also come out totally regenerated.