The benefits of camping with a water park!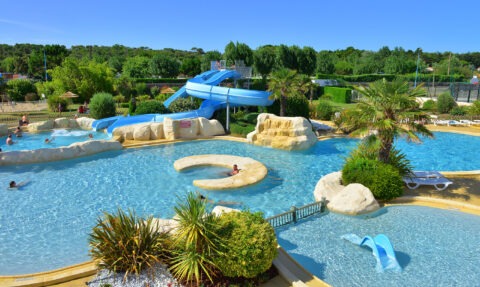 Holidays are special times to recover from all the fatigue accumulated during activity. To make them enjoyable, you have to give yourself the opportunity to live very beautiful experiences. Playful and fun activities have an inescapable impact. Thus, leisure and leisure establishments diversify their offerings for always pleasant sensations.
Although they are numerous, not all destinations provide the same satisfaction. Among other things, camping with water park is an excellent alternative! Let's discover the many assets of this space!
Description of the campsite with water park
Holiday campsites are places where you want to be the most amazed to make the most of your moment of relaxation. They offer a variety of activities that are worth a visit. In these places, you can have a very pleasant atmosphere with calm and serenity.
Similarly, you will find great opportunities for attraction with basic services ideally provided. A campsite with a water park offers more options for entertainment. It refers to a large facility that contains many aquatic attractions. The camping Les Places Dorées for example offers such a space with many efficient services.
These include swimming pools, natural beaches,fountains, water slides and various water games. Thus, a campsite with a water park is a dream place to practice interesting activities and thrills.
In addition, the most complete facilities allow to create artificial waves for the practice of certain water sports,such as surfing, bodyboarding or aquagym with bikes.
Some activities to practice
Having a water park in a holiday campsite is a great option. For good reason, these water parks have a considerable interest and offer a great diversity. The water park has specific features that also make it safe, aesthetic and pleasant.
A campsite with a water park is usually very friendly and ideal for a great time of entertainment. Thus, the main advantage that such a framework offers is the number of fun activities to practice.
For example, the pool allows you to spend good moments swimming at will and relaxing in the water. You can also enjoy a beautiful tranquillity with hot tubs, fountains and lazy rivers. However, you also have the opportunity to experience thrills.
Water slides are games that provide these intense and pleasant sensations. They meet strict safety standards.
The advantages of such a campsite
The water parks in the campsites allow to have spaces of great beauty. The impressive blocks of water are a big part of it. You often have exotic microclimates in these places with mini-gardens and sublime greenery.
Similarly, the water parks in the campsites allow you to enjoy beautiful, lively and ideal landscapes to spend time and see the world.
Sometimes, especially in the evening, you can enjoy this unique beauty by lying down by the water. Also, during activities near the park, you can retire with your loved ones to enjoy delicious dishes and cocktails available.
Make the best camping experience
To make the most of your holiday, the campsite with water park offers additional services for great comfort and optimal comfort. The Golden Places campsite offers you an exceptional experience with wide services.
There are many options for accommodation, catering and access to a good quality connection. Similarly, on these places, you can attend performances or various other very interesting events. You may or may not choose to participate in concerts or group games held in the water park.
Finally, spending your holidays in a campsite with a water park allows you to live a unique experience through water activities, accommodation and catering. The additional services and regulations of the campsites guarantee comfort and safety.
Our accommodation suggestions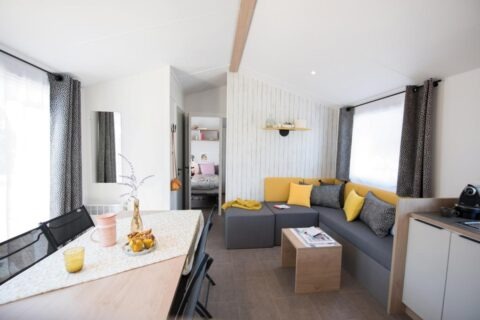 Cottage Family
covered terrace + TV + dishwasher

Area 40 m2

4 Bedrooms

1 person
Having a good stay with your large family is no longer mission impossible, with the Family Cottage and its surface area of over 40 m². 4 bedrooms and common living rooms, to ensure you have a comfortable and spacious holiday!