The benefits of our sauna in Saint-Jean-de-Monts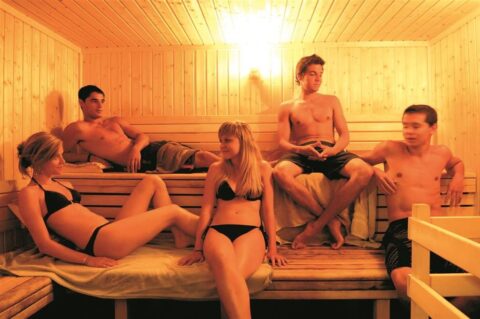 In Saint-Jean-de-Monts, the "Golden Places" campsite with a water park is the perfect place to spend excellent moments of relaxation.
Enjoy the friendly environment offered by this campsite as well as the various activities you can indulge in.
Discover our sauna in Saint-Jean-de-Monts and enjoy its benefits on your body.
What is the sauna?
The sauna, also known as a Finnish bath or dry steam bath, is a small cabin made of wood or a room in which it is possible to take a heat bath ranging from 70 to 100 degrees.
The sauna has been in Finland for more than 2000 years. To enjoy the sauna, it is necessary to be naked in order to be able to sweat easily and evacuate the sweat.
Our sauna in Saint-Jean-de-Monts is able to provide you with the necessary care for your well-being. There are usually different types of sauna:
The traditional sauna, which has followed the same practices for more than 2000 years with a wooden stove heated to a temperature between 80 and 100 degrees;
The electric sauna, similar to the traditional sauna, but with instead the wooden stove, an electric stove and volcanic stones used to produce dry steam in the room;
The infrared sauna, which does not use a wooden stove or electric stove to heat the room. This sauna is equipped with infrared panels that radiate in the room and produce heat.
Take a tour of our campsite with water park for beautiful experiences that warm the body and mind.
What are the benefits of our sauna in Saint-Jean-de-Monts?
Our sauna in Saint-Jean-de-Monts, located in the campsite with water park, is a place of relaxation for your body as well as for your mind with huge health benefits. As a main benefit, the sauna offers, among other things, perfect blood circulation.
Indeed, thanks to the heat of the sauna, your blood vessels will be dilated. As a result, it essentially helps to prevent cardiovascular disease when you frequently engage in it. Your blood pressure is also better. You will be able to afford a holiday that will cure you of many of the consequences left by your daily routine away from the campsite.
Then, the sauna helps to relax the muscles and is excellent for relieving after a sports activity. It makes your joints firm and allows your muscles to perform beautifully. Have you visited the area around the campsite all day? Now it's time to relax in our clean and welcoming sauna!
In addition, the heat that emanates from the sauna is a good anti-tank. This heat brings out endorphins and de-stresses you. If you also have breathing problems, a sauna is the key to many of your problems. The benefits of the sauna on the body and mind are no longer to be discussed. Our sauna is waiting for you to offer you moments of relaxation without limits.
Is the sauna forbidden for some people?
The sauna is not categorically forbidden for people with heart or arterial diseases. It will have to be at a relatively low temperature.
However, for people with skin diseases including psoriasis, children, pregnant women as well as people with fever, it is strongly forbidden to take part in a sauna session.
In Vendée,our campsite with water park is the perfect setting to relax, swim and enjoy a good time.
In addition to this, the sauna in Saint-Jean-de-Monts, with its many benefits, is a source of well-being for you. The water park at Les Places Dorées campsite also has other assets to make your family holiday unforgettable:
The indoor pool
The heated outdoor pool
The slide
Our accommodation suggestions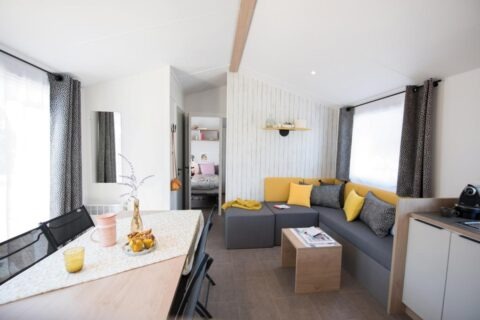 Cottage Family
covered terrace + TV + dishwasher

Area 40 m2

4 Bedrooms

1 person
Having a good stay with your large family is no longer mission impossible, with the Family Cottage and its surface area of over 40 m². 4 bedrooms and common living rooms, to ensure you have a comfortable and spacious holiday!