The benefits of water park camping in France in 2020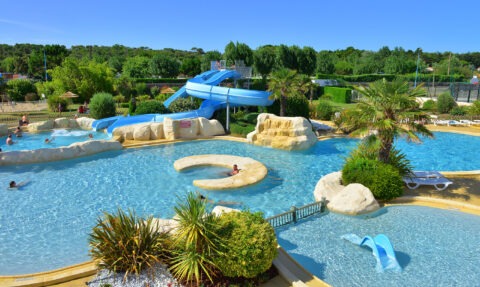 The water park is a great place to do many of the most sensational water activities. Indeed, for your moments of relaxation, such as holidays or weekends, you must find yourself in a playful environment that restores joy to your being.
Also, during these moments, you have to go to discover many other things to brighten your mind and to regain some balance in your being.
For this purpose, among all these possible destinations, camping with water park happens to be the best idea. Discover its benefits in this article.
Countless activities to practice in a campsite with water park
Water park campsites give you the opportunity to do an incalculable number of activities that keep growing. With the different pools you will discover, you will never tire of spending pleasant moments while relaxing.
There are artificial wave pools that allow you not only to swim, but to do other sports activities. It is a place where young and old will find the activity that will delight their hearts. Water slides are available as well as at the Golden Placescampsite.
These slides will give your children exceptional sensations. If you need calm, you will always be happy to join this kind of campsite.
Indeed, you can choose between lazy rivers, hot tubs or fountains to relax in absolute calm. Finally, in a place like this, you will do the aquagym with bikes and many other water activities.
Playing water games in a campsite with a water park
To better relax, you wouldn't have a better choice than a campsite with a water park. On these campsites, you can practice swimming or aquabike. It's also a great place to practice water sports like surfing when you don't want to go to the beach.
Indeed, in these campsites, artificial waves are created for these kinds of activities. This way, you can easily practice your bodyboarding. These water activities preserve your joints and allow you to have a relatively healthy skin.
In addition, they will improve your respiratory, cardiovascular and even mental health skills. On this campsite, children can play with weapons and water bombs on the watch of the animators.
In addition, children are definitely not bored, as they will always be able to play giant scrabbles in swimming pools, mini pages and many other games.
Swim at will with beautiful views in a campsite with water park
On a campsite with water park, you have exotic microclimates in beautiful mini-gardens in the presence of palm trees, beautiful greenery, etc. That said, these car parks allow you to have a good time while admiring a beautiful bustling landscape.
In addition, you can swim at will. Here, the climate will not stop you in your desire to be in contact with water. Indeed, you have the privilege of bathing in exotic, oriental or even modern swimming pools. Also, you will enjoy heated and covered pools for your greatest happiness.
What if we opted for the camping Les Places Dorées…
The aquatic campsite Les Places Dorées is located near the beach of Saint-Jean-de-Monts. It is a campsite where you will have the opportunity to entertain yourself with its slides. This car park is also 500 metres from bike paths and walking trails.
It offers a gym, a multi-sports field and often organizes sports tournaments. In addition, when you pack your bags for your moments of relaxation, you will be entitled to a wellness space for free. You will then enjoy a sauna, a steam room or even bubbling baths.
These spaces allow you to achieve the right harmony of body and mind. Finally, in this parking lot, you will be treated to heated, covered swimming pools, water games, a heated paddling pool, etc. Everything is there so you can have a great time.