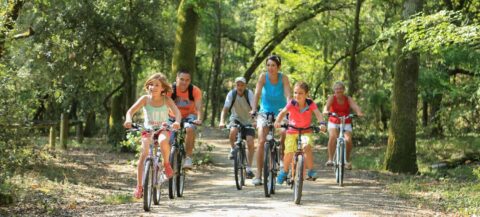 During your camping holiday in St Jeans de Monts, get on your bike and get on the bike paths directly accessible from the campsite! Your destination: Barre-de-Monts or Saint-Gilles-Croix-de-Vie!
You have the joys of bike rides on the Esplanade de la mer or along the ledge leading to the famous rocks in Sion-sur-l'Ocean. Choose your itinerary and discover the Vendée on the sea or land side safely!
The bike paths of the Vélodyssée
The bike paths of Saint Jean de Monts,it is a 26 km circuit exclusively reserved for bicycles! It is an opportunity for campers to discover the local flora and fauna, between sea, dune, forest, marshland and bocage of the Monts countries.
Practical: renting a bike on the campsite!
Have you forgotten your bikes and would like to walk on the bike paths of Vendée? The campsite has it all planned! Together with partner Cycl'Hop, you can rent adult and children's bikes to walk the bike paths at the campsite gates.
The Vendée Corniche and Zion on the Ocean
From Saint Jean de Monts to Saint Gilles Croix de Vie: 23 km to discover the Vendée cornice!
Walk along the beach and after about ten kilometers, you arrive on the Vendée Corniche, a site classified since 1926 for its natural landscape made of cliffs, caves, isolated rocks and small coves.
What to see, to do: the former fishing village of St-Hilaire-de-Riez, the 5 Pineaux and the Devil's Hole … Arrived at Saint Gilles Croix de Vie, stroll along the harbour docks to the pier and enjoy the picturesque atmosphere of this first sardine port on the Atlantic coast (museums, flower parks, salt marshes, bicycle-rail…).
Our accommodation suggestions