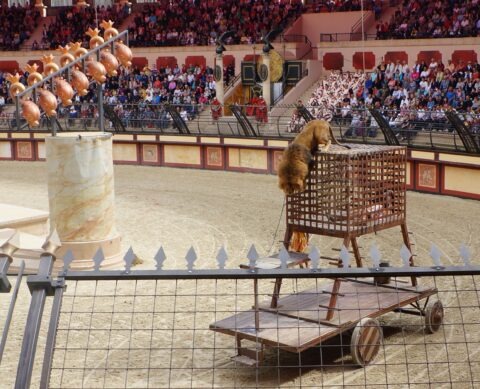 Take advantage of your camping trip in the Vendée to spend a family day at the Grand Parc du Puy du Fou. An unmissable holiday at 1:30 a.m. from the campsite that will delight young and old!
Great shows
The Puy du Fou is a historical theme park, an ideal outing to combine leisure and culture and rediscover history in a different way. All day long, original shows follow, the Last Panache, the Sign of Triumph, the Vikings, the Phantom Bird Ball, the Secret of the Lance, the Musketeers of Richelieu, the Lovers of Verdun, the Renaissance of the Castle, the Knights of the Round Table, the Imaginary World of La Fontaine… So many animations that punctuate your discovery of the park!
Villages more real than life
Throughout your visit, take a stroll through the 4 reconstructed villages: the village 1900, the Fort de l'An Mil, the Medieval City and the 18th Century Village. You will find many restaurants, souvenir shops, candy merchants, rides, demonstrations of craftsmen… This is your chance to go through the centuries in one day!
The Cinescénie, the world's greatest night show
The Puy du Fou is world famous for its show Nocturne. The "Cancenia" is an hour and 40 hours of great show with 1200 actors, all volunteers, a stage of 23 hectares, 24,000 costumes with great reinforcement of choreography and special effects …
Photos: Puy du Fou / Vendee Expansion
Convenient: book your tickets to the Puy du Fou directly at the campsite reception thanks to the ticketing service!
If you are looking for a campsite near the Puy de Fou,contact camping Les Places Dorées to find out what is available and book your mobile home rental in Vendée or your campsite!
Address:
85590 The Epesses
Tel: 0 820 09 10 10
See more info on the large Puy du Fou park
Our accommodation suggestions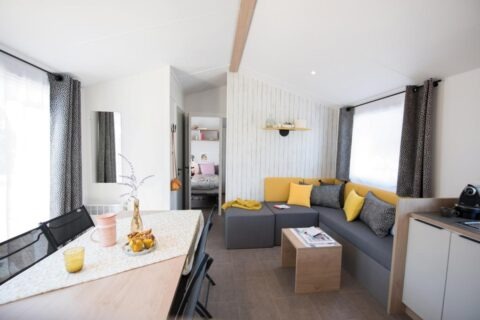 Cottage Family
covered terrace + TV + dishwasher

Area 40 m2

4 Bedrooms

1 person
Having a good stay with your large family is no longer mission impossible, with the Family Cottage and its surface area of over 40 m². 4 bedrooms and common living rooms, to ensure you have a comfortable and spacious holiday!