What does the Les Places Dorées campsite in Saint-Jean-de-Monts have in store?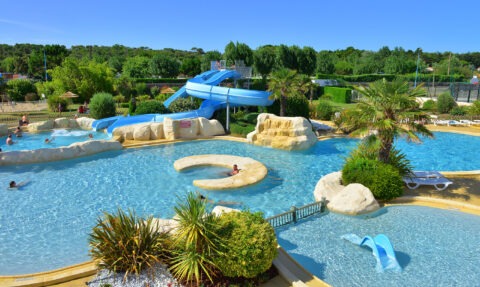 Visit our Golden Places campsite in Saint-Jean-de-Monts on a virtual tour!
A vast water park located just 300m from the forest and 800m from the beach,the Golden Places campsite has everything to seduce you.
With quality spaces and a warm welcome,this 4-star campsite is an ideal setting to relax with friends or family in Saint-Jean-de-Monts.
This article invites you to take a virtual tour of the site to discover what awaits you during your visit.
Why choose the Golden Places campsite?
Created in 1980,the Camping Les Places Dorées has undergone a huge evolution over the years. Today, it offers many complementary infrastructures and establishes itself as a reference site for a dream holiday in the Vendée.
On the sporting front, this campsite features multi-sport fields. You can also access a bowling alley and a fitness room to keep fit. If you want, you can participate in sports tournaments or trampoline.
For swimming enthusiasts, this campsite offers an indoor and outdoor swimming pool. Between April and September,you can attend various events. When it comes to camping in a region like the Vendée, everyone has their own desires and rhythm.
Aware of this reality, we offer a wide range of activities to meet your expectations. Let our animation experts guide you. They are usually full of energy and good humour.
Go to very nature locations
In total, the Camping Les Places Dorées offers 76 grass-based pitches spread over five hectares. Each plot for motorhome, tent or caravan is separated with hedges, which guarantees tranquility and privacy.
In order to maximize comfort and simplify your daily life, the camping-caravaning spaces are equipped with an electrical connection of 10 A.
Water points are easily reached near your location. It should be noted that the toilet blocks consist mostly of individual cabins and dishwashers.
Depending on the length of stay, you can access a laundry area with washing machines. You will buy the tokens at the reception once on the premises.
A green aquatic space for different activities
At Les Place Dorées campsite, you have the opportunity to access a large water park. In addition to its exotic plants, this park has heated outdoor pools for excellent relaxation.
The swimming pools are accompanied by water slides and are an ideal spot for children. For the paddling pool, it is shallow and children can have as much fun as they like, without any risk.
To allow campers to swim in any season, this 4-star campsite has an open and heated swimming pool. If you like sunbathing, the beautiful beaches nearby can satisfy your expectations.
It should be noted that a wellness area is also present with bubbling baths, a hot tub and an open access steam room.
Quality cottages for a pleasant stay
The Golden Places campsite offers comfortable accommodations at reasonable prices. With an area ranging from 20 to 36 m, these accommodations are designed to offer maximum comfort.
Whether you're camping alone or in a group, you'll find one that's right for you. If you want to stay together with your family throughout the stay, you can opt for one of the large models.
They offer two or three bedrooms and can accommodate up to 6 campers without compromising comfort.
Our accommodation suggestions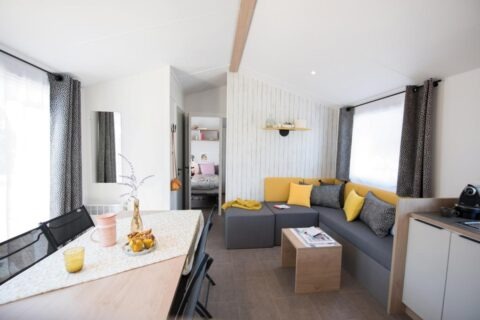 Cottage Family
covered terrace + TV + dishwasher

Area 40 m2

4 Bedrooms

1 person
Having a good stay with your large family is no longer mission impossible, with the Family Cottage and its surface area of over 40 m². 4 bedrooms and common living rooms, to ensure you have a comfortable and spacious holiday!