What to do when camping when it's hot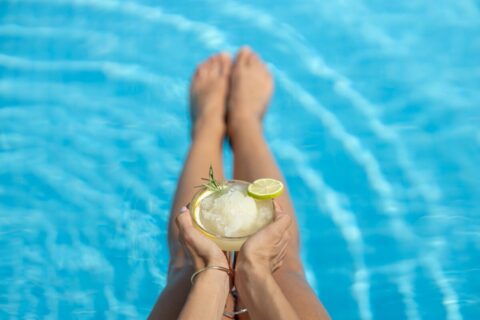 What if we told you that camping when it's hot can be a great idea? Learn how to cool off with Les Places Dorées!
For many vacationers, camping in hot weather is synonymous with discomfort. But in reality, heat can be your best ally! You just have to know how to apprehend it.
Indeed, camping when it's hot can be a real ordeal when you don't know how to handle the situation. But in a tent as in a mobile home, there are many options for cooling off and enjoying the mildness of a sunny summer day.
Looking for tips on how to cool off in the summer sun? Les Places Dorées, your 5-star campsite in Vendée , gives you all the information: discover our practical advice!
Hydrate regularly to stay fresh and fit
When temperatures soar, staying hydrated is key to preventing dehydration and enjoying your camping vacation to the fullest.
Be sure to drink enough water throughout the day, and keep a water bottle close to you at night.
Take a reusable water bottle with you during your activities and do not hesitate to stop regularly to quench your thirst . If you want to vary the pleasures, also opt for refreshing drinks such as fresh fruit juices or iced infusions.
Enjoy the morning and evening freshness
When it is hot, temperatures are generally more pleasant at the start of the day and in the evening. Take advantage of these cool moments to do your outdoor activities.
If you camp in a tent, the morning sun of summer will wake you up: take advantage of it to savor the cool moments of the morning!
Schedule your walks, your bike sessions or your petanque games during these milder periods. You will be able to avoid the strong midday heat and fully enjoy your day camping.
Find some shade to relax
But then, what to do in the afternoon? The heat can sometimes become stifling.
To cool off and relax, look for shade in Les Places Dorées campsite. Trees , umbrellas , or tent awnings can provide shelter from the scorching sun.
Make yourself comfortable and enjoy a moment of rest in the shade. You will be able to recharge your batteries and regain strength for the activities to come.
The absolutely ideal circumstances to take a nap, far from everything and with birdsong as a lullaby!
Cool off with water activities
What could be better than enjoying the joys of water when it's hot?
At Les Places Dorées campsite, you are lucky enough to be just 800 meters from the beach.
Take a short walk to the sea and dive into the refreshing waves . If you prefer to stay on site, our campsite has a swimming pool where you can swim and cool off in peace.
Aquatic activities are ideal for fun and cooling off on hot summer days.
Take cool showers to refresh yourself
Don't feel like going to the beach or the pool ? Never mind: take a cool shower in the fully equipped sanitary facilities at Places Dorées!
A cool shower can be a great way to cool down when the heat gets intense.
Take a shower in the morning to start the day off right or a shower in the late afternoon to refresh yourself before the evening. The cool water will help you feel invigorated and ready to fully enjoy your vacation.
Place a damp towel over your tent
Are you camping in a tent, and from the first rays of the sun you suffer from the heat?
Our first advice is to make sure you position your tent in the shade, to avoid direct light which would heat up your tent too much.
If that's not enough, feel free to dampen a shower towel and place it on your tent! Thus, the air that will enter will be cooler, forming a small airtight cocoon of freshness.
>>>Also read: 7 tips to keep your tent cool
The greatest comfort for camping when it's hot at Places Dorées!
At Les Places Dorées campsite, we know that summer holidays can sometimes be marked by high temperatures. Despite the wind from the ocean, the heat of the Vendée is conducive to a nap!
However, with these simple gestures, you will be able to protect yourself from the heat and fully enjoy your stay.
Book your stay at Les Places Dorées campsite now and come and enjoy an unforgettable holiday in Vendée, even on hot summer days!
Our accommodation suggestions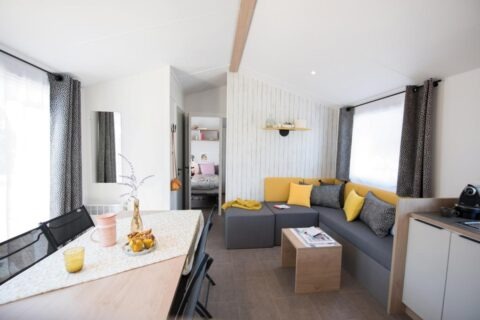 Cottage Family
covered terrace + TV + dishwasher

Area 40 m2

4 Bedrooms

1 person
Having a good stay with your large family is no longer mission impossible, with the Family Cottage and its surface area of over 40 m². 4 bedrooms and common living rooms, to ensure you have a comfortable and spacious holiday!