Why choose a family campsite in Saint-Jean-de-Monts?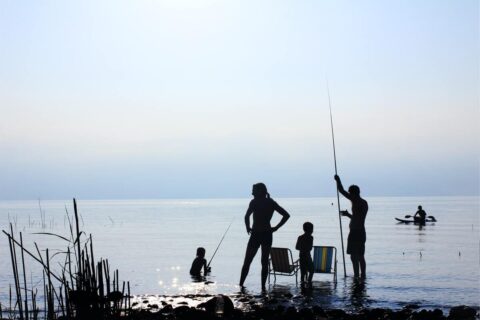 Between service for the little ones and welcome for the older ones, it is important to choose the right family campsite in Saint-Jean-de-Monts. Discover the criteria!
Organizing a stay with family or friends is not always an easy task.
Especially when it comes to finding the place where you are going to spend your holidays! Much more than a campsite, it is also the place where you will spend the most time. It is therefore important that it appeals to everyone: young and old!
So why not choose a family campsite in Saint-Jean-de-Monts? Essential among all types of camping in the Vendée , it is an opportunity not to be missed for a successful holiday.
Your campsite in Vendée les Places Dorées explains all the advantages of spending your holidays in a family campsite!
A family campsite: what is it?
But what do we really mean by family camping? What does a family campsite have more than another campsite ? This is a question that you have to take the time to ask yourself.
Family campsites aim to welcome all ages , and allow everyone to have an incredible holiday.
For older children, it's a campsite that offers fun and sporting activities, and helps you choose what you're going to do during the day.
But it is also a campsite that puts your rest first! Whether you want a relaxing holiday or a sports holiday, you will always find what you are looking for in a family campsite.
For the little ones, the family campsite is a campsite in which life is good. But we are not only talking here about the optimal quality of life.
We talk about activities designed for children, with other children! You have the children's club and the teen club available, with fun and practical activities. Exactly what is needed to entertain them.
Also read: Activities to do with the family in Vendée
Activities for all ages
The activities offered in a family campsite are suitable for all ages. Of course, the children's club is reserved for children, and the teens' club for teenagers.
But there is also a whole range of activities that you can do with your family, young and old alike.
This is for example the case of discoveries and treasure hunts organized by the campsite. Or themed evenings!
Family campsites ensure that the whole family can spend the evening at the campsite without getting bored. Pool parties, dance parties, magic nights… There's something for everyone.
Friendly coaching staff
And all these activities are set up and managed by the campsite staff : they too are the cornerstone of the success of your holiday. Quite simply because thanks to their kindness and their family management of activities , it is impossible to get bored!
Children find their account, and adults too. The campsite staff is there to ensure that you have a good holiday, have fun and have everything you need.
Many facilities are thus available to you, to guarantee the smooth running of your holiday.
A stay that meets everyone's preferences
Finally, the last main characteristic of a family campsite is the fact that you can always find something to do, whatever your desires!
Between the supervised aquatic area, the water fun area for children, the activities offered outside the campsite, the recommended restaurants…
You always get good advice, from a smiling and attentive staff.
Family camping in Saint-Jean-de-Monts: the solution for a successful holiday!
Family camping trips are always a success! And if you too, you spend an unforgettable holiday in the company of your loved ones? Book your stay at Places Dorées quickly, and discover all the beauties of the Vendée in an ideal setting.
Do you want to organize an extraordinary stay? Discover the other types of campsite in Vendée (including Les Places Dorées):
Traditional campervan
Comfort camping
Our accommodation suggestions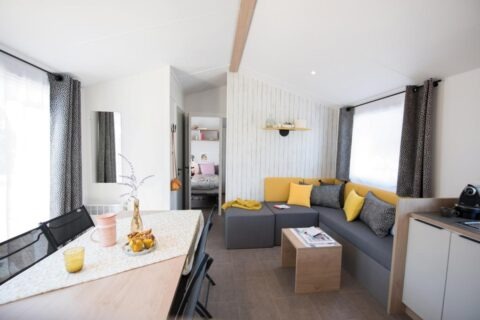 Cottage Family
covered terrace + TV + dishwasher

Area 40 m2

4 Bedrooms

1 person
Having a good stay with your large family is no longer mission impossible, with the Family Cottage and its surface area of over 40 m². 4 bedrooms and common living rooms, to ensure you have a comfortable and spacious holiday!