Why rent when you can become a homeowner at Les Places Dorées campsite?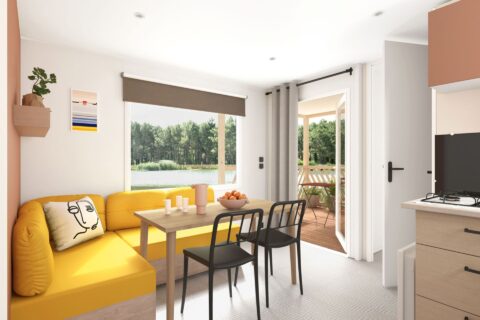 The campsite has never lost its credentials. On the contrary, year after year, the establishments are modernizing and offering their customers more and more personalized offers. Basically, when you go to a campsite, the mobile home is subject to rent during the time of the stay.
But more and more, a new approach is being tested. This is the purchase of a campsite and the second home. In our campsite in Saint-Jean-de-Monts,the idea makes its very small end of the road and seduces more and more people.
What are the advantages of buying a campsite in the Vendée? In the article here, we invite you to discover them.
The economic benefits
This is the first advantage of becoming a homeowner at a campsite.
If you have to compare the price of a house by the sea with that of a mobile home, real savings are realized under the second contract. In addition, the mobile homes of the campsites are built according to different standards. Thus, the buyer can choose between different models (for example: depending on the surface, the number of rooms, etc.).
Moreover, wanting to satisfy their clientele of holiday stays, the campsites have equipped their mobile homes with furniture and all the technological innovations essential to our time: appliances, Wi-Fi … In the end, you won't need a truck to buy and transport new furniture.
Whether the mobile home is new or used, it's always a good deal. Indeed, at the administrative level, owning a campsite requires less administrative inconvenience and less expense.
This is hardly the case if you buy an apartment or a house, because you will have to pay several types of fees: notary's remuneration, taxes, condominium fees, renovation work to be carried out (in some cases) etc. In fact, the purchase of certain residences is subject to local taxes. This is the case, for example, with beachfront houses. On the other hand, with a mobile home: there is no tax to pay.
And finally, your acquisition can make you money. It's simple: when you don't live there, you can rent.
The benefits of camping
There are several of them. First, the campsites are located in strategic locations (close to the sea, marshes or even forests). And since your mobile home is inside the campsite, you enjoy the advantages of this geographical location. For example: being able to get to the beach easily for swimming or fishing.
The campsites offer their clientele various activities: children's games, water parks, saunas, sports clubs, hikes, fishing,etc. Owning your own mobile home inside a campsite gives you access to these fun activities.
The question of maintenance
No matter what type of home you live in, you are required to perform several maintenance measures. The mobile home is no exception to this fundamental rule.
Because of its design and dimensions, the maintenance of a mobile home is easy to perform. Another advantage is that in your absence, you can use the maintenance services of the campsite to take care of your residence.
Security benefits
Your second home needs to be protected from burglars. And unfortunately, you can only be present on the scene at one time of the year.
Owning a mobile home in a campsite gives you several safety benefits. Indeed, in your absence, the camping staff will look after your mobile home. That way, no matter the season, there will always be someone on the premises. And if there is a problem (for example: damage from bad weather), the campsite will notify you immediately.
After this analysis, it is clear that owning a camping accommodation is a good idea. In Saint-Jean de Monts, the Les Places Dorées campsite offers you this investment opportunity on:
Our accommodation suggestions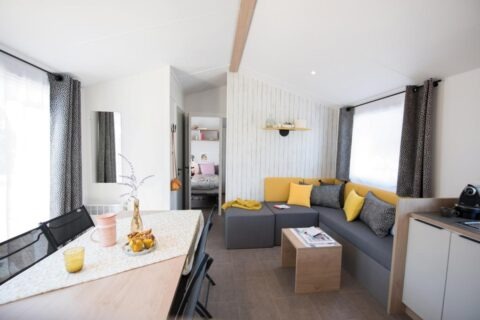 Cottage Family
covered terrace – TV – dishwasher

Area 40 m2

4 Bedrooms

1 person
Having a good time with your large family is no longer an impossible mission, with the Cottage Family and its area of more than 40 square meters. 4 bedrooms and communal living rooms, to ensure a comfortable and spacious holiday!