Your holiday at Camping Les Places Dorées in Saint-Jean-de-Monts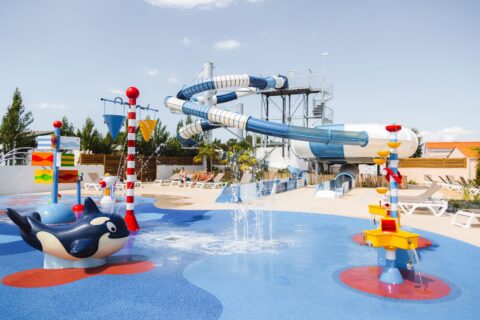 Ecological camping and recycling: Golden Places in Saint-Jean-de-Monts!
Camping Les Places Dorées in Saint-Jean-de-Monts opens its doors for an unforgettable holiday. Enjoy your stay in a pleasant and totally respectful of nature.
Whether you are alone or together, the site is designed to meet your needs for relaxation, entertainment and discovery.
Introducing the Camping Les Places Dorées in Saint-Jean-de-Monts
To best present the camping Les Places Dorées,it is above all necessary to dwell a little on the locality that houses it.
Saint-Jean-de-Monts – since that's where it is – is located in the department of Vendée, on the Atlantic shore. Its judicious position on the Côte de Lumière makes it a place of tourism and vacation par excellence.
The place enjoys temperate climatic conditions, with about 2300 hours of sunshine per year. It should be noted that this sunshine is especially appreciated in summer, which is the busiest period.
It is in this charming seaside resort that Les Places Dorées was established in the early 1980s. So it's been more than 30 years now that this 4-star campsite is serving holidaymakers from here and abroad!
Eco-responsibility at the centre of the life of Camping Les Places Dorées in Saint-Jean-de-Monts
Since its inception, the camping site Les Places Dorées has implemented a policy of respect, protection and enhancement of nature.
The aim is to ensure that recreational and tourism activity is as harmful as possible to the immediate environment.
The eco-constructions that make up the bulk of the campsite's facilities meet the BBC (low-consumption building) and HQE (high quality environmental) standards.
This has the advantage of significantly reducing energy and water consumption.
Ecological waste management is also a principle taken very seriously at Camping Les Places Dorées in Saint-Jean-de-Monts. The safety of the site and its surroundings is thus guaranteed by appropriate storage and collection measures.
Similarly, the necessary is done to reduce the production of waste while promoting selective sorting and recycling.
Through its actions, Camping Les Places Dorées is in line with the ecological efforts made by the city of Saint-Jean-de-Monts. It should be noted that the locality has, among other awards, the "Golden Flower" trophy awarded to the flower towns and villages competition.
What makes the holidays at Camping Les Places Dorées special?
Thanks to its
ecological commitment,
the site provides the public with a holy setting, conducive
to relaxation and escape.
The general layout of the place promotes good humour and pushes the feeling of well-being to its climax.
To do this, holidaymakers take advantage of a multitude of entertainment facilities. These include:
Multi-sport fields that can host a variety of sporting events;

An aquatic area with slides to indulge freely in the joys of water
Playgrounds and walks;
Equestrian and cycling trails;
A wellness area with spa, sauna, steam room and bubbling baths.
In short, many activities and pleasures are offered in the Camping Les Places Dorées in Saint-Jean-de-Monts and its surroundings.