3 beaches in Vendée for sunbathing and swimming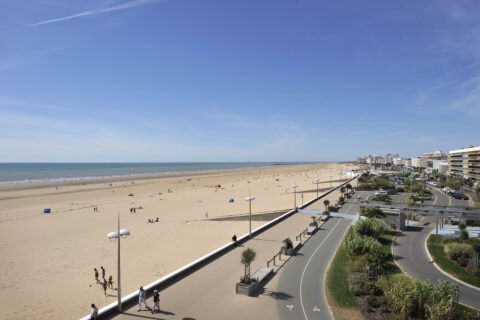 Bather's Beach
Located in downtown Saint-Jean-de-Monts,the beach of the Bather is the busiest during the high season.
Accessible to all and even people with reduced mobility, this beach has fine sand and a gentle slope that are ideal for total relaxation. Thanks to its quality water, this beach has been awarded the Blue Flag to rank it among the must-sees.
On this beach, you can bathe and perfect your tan in complete serenity thanks to the emergency stations that ensure optimal safety. In addition, your children can enjoy various play centres on the beach for entertainment. You can also take advantage of the bars and restaurants set up along the beach to sample the delicious cuisine of the region.
Dune Beach
If you are wonderingto do in Vendée as a nautical activity,we will take you to the beach of the Dune. On this beach, you can enjoy, in addition to swimming, nautical activities such as sailing, kite surfing, kayaking, windsurfing, paddle boarding and sailing.
Sitting on your sun lounger with your feet in the fine sand, you can sunbathe while sipping a delicious cocktail concocted by one of the beach bars.
Located behind the estacade and sheltered from the dunes, this beach enjoys regular monitoring during swimming hours. In order to keep the place clean, the Dune beach is equipped with toilets to allow summer visitors to satisfy themselves at all times.
Central Beach
Much appreciated by summer visitors, the Central Beach is sufficiently equipped to allow you and your children to have a pleasant time. Having obtained the blue flag thanks to its quality water,this Beach in Vendée is ideal for your swimming sessions with family or friends. After your swim, you can enjoy a relaxing moment on the beach to improve your tan.
Central Beach is a secure beach with emergency stations that ensures the safety of summer visitors. If you are a lover of water activities, we suggest you go to the nautical center to take sailing lessons. This beach also has free parking, toilets and showers for total comfort.
So what to do in the Vendée?
In addition to the beaches, you can enjoy, in our campsite the Golden Places, various nautical activities such as sailing, paddle, kite surfing, kayaking to experience unique sensations. To discover the area and its beautiful wildlife, we organize hiking, equestrian and cycling tours in which you can participate as a family. You can also take a tour of the markets of Saint-Jean-de-Monts to enjoy the various products of the region.
We will also take you to Explora Park where you can do activities like paintballing, hooking, tennis. During your stay, you can visit the Vendéen Marsh where you can take a bike ride or a boat ride. You can also take a tour of theisland of Noirmoutier to discover the Passage of the Gois or discover the nature reserves.
In addition, you can take a tour of theisland of Yeu where you can explore the prehistoric sites and admire the Old Castle. Take advantage of your stay in the Vendée, to go to the Puy du fou where you can follow original shows like the Cinescénie, the Vikings, the Last Panache.
Our accommodation suggestions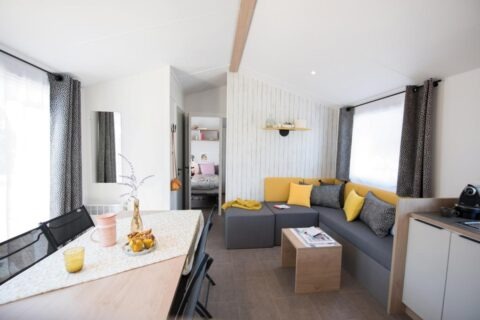 Cottage Family
covered terrace + TV + dishwasher

Area 40 m2

4 Bedrooms

1 person
Having a good stay with your large family is no longer mission impossible, with the Family Cottage and its surface area of over 40 m². 4 bedrooms and common living rooms, to ensure you have a comfortable and spacious holiday!